About Us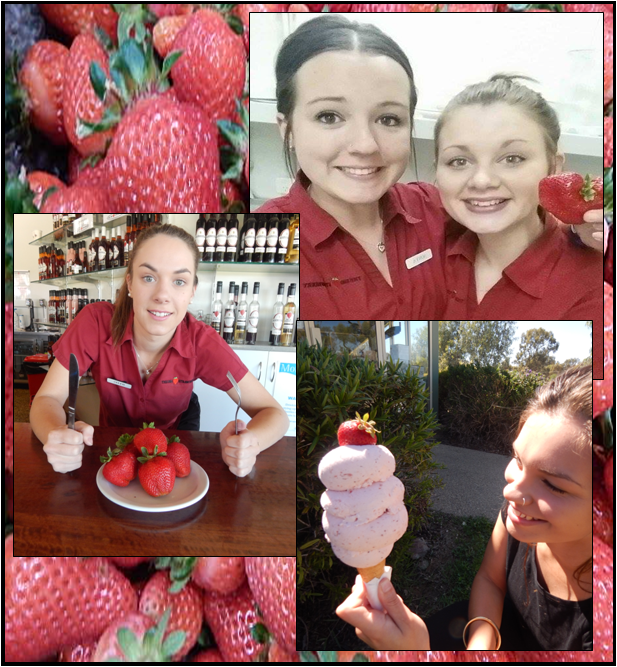 The Big Strawberry company is owned and operated by Darren and Tarnia Hayes. It is situated at 7034 Goulburn Valley Highway Koonoomoo in Victoria, about eight km from Tocumwal and nine kilometres from Cobram It is a good stone throw from the mighty Murray River, and nestled amongst of one of Australia's prime food production regions.
The Big Strawberry building is 500 square metres and consists of a cafe, production and storage areas, a strawberry patch, childrens outdoor playground, kids games room and parking for many cars & buses. The cafe has seating for 90 people. It displays and sells the many products that the Big Strawberry produce. The large production and storage areas are used to develop and store the many condiments, wines and other products the company make, and for packing strawberries for sale onsite and to local food and fruit outlets.
The Big Strawberry farm that supplies the strawberries and other fruit/vegetables is nine hectares with two acres being used for strawberries. It is two kilometres from the Big Strawberry complex.
What can you do at the Big Strawberry?????????
Dine on our selection of light meals and strawberry desserts.
Take a photo with our BIG strawberry..its huge
Taste our many wines and fortifieds produced by us
Enjoy our homemade ice creams including our awesome strawberry flavour
Pick strawberries in our strawberry patch... (seasonal)
Browse through our large range of strawberry products, gifts and souviners
Paly on our outdoor playground and indoor games room
Look out for our large indoor playground and educational area being built in 2016